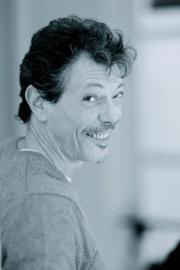 Born on 27 January 1960 in Algeria, Pierre PEREZ-VERGARA dicovers the guitar at the age of 15 and falls in love with the Beatles songs ; he wants to play them all !
After practicing by himself for a few years, he studies solfege and harmony with Raymond and Alain Weber in a private class for more than 2 years while also playing pop-rock songs with friends on stage.
Jazz music quickly becomes a passion and after having played for a few years in many parisian clubs and festivals with his trio with Dominique BERTRAM ( Bass ) and Stéphane PLANCHON ( Drums ), he joins for one year the Eddy LOUISS band on a tour with Paco SERY and Michel ALIBO.
In 1988 he decides to go back to pop songs and creates with his friend Stéphane PLANCHON and the singer Yassine DAHBI a band called P.S.Y. ( Pierre, Stéphane, Yassine ). In 1989, the band signs with the label BMG for an album called Etre ange, mon ange written and produced by P.S.Y.
In 1990 the single Laisse moi jouer is quite a success and sells more than 50000 copies. P.S.Y. becomes known by the French public.
In 1991 the single Angelina becomes a big hit and allows the band to sell more than 150000 records and to play in front of big audiences. The video clip of the song is one of the most played on French TV that year.
In 1992 the members of P.S.Y. decide to split up and go their own way. After having produced Yassine DAHBI's first solo album for BMG, Pierre joins the production label EDEN ROCK and produces a great number of commercials.
Later on, Pierre continues to produce and play the guitar on the first albums of young singers such as Moîna ERICKSON, Hocine MERABET, etc... for SONY Music and TREMA.
He also participates on soundtracks as a guitarist or producer, or both, ( L'homme au masque d'or by Eric DURET, South of the border by Oliver STONE, Paparazzi by Alain BERBERIAN, Into the cold by Sebastien COPELAND, Big city by Djamel BENSALAH, Un village presque parfait by Stéphane Meunier, Le fils à Joe by Philippe Guillard, Midnight Special by Jeff Nichols, etc... ).
In 1995 Pierre meets the editor Eric MALLET who at the time is creating a collection of music illustration called KOSINUS. This label, owned by UNIVERSAL Music since 2010, has grown to become one of the most important references in the world. Up until today, Pierre has composed and performed 22 albums for KOSINUS / UNIVERSAL ( www.kapagama.fr ).
In January 2013, Pierre is nominated to the artistic board of ADAMI, a French administration that helps young talents obtain grants for recording or performing.
In August 2020, Pierre steps out of time. The great musical treasure he leaves behind will continue to enrich us. His extraordinary talent and light keep shining.