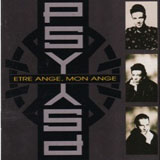 P.S.Y. are :
Pierre PEREZ-VERGARA : guitars, keyboards, strings and horns arrangements.
Stephane PLANCHON : drums and programming.
Yassine DAHBI : guitars, lead and backing vocal.
Composed and Written by P.S.Y.
Recorded by Rod Beale and Stephane Planchon at Studio Davout, Paris.
Mixed by Susan Rodgers at Larrabee Sound ( L.A. ) and Rod Beale at Studio Davout, Paris.
Produced By R.L P. and P.S.Y. for BMG France.